On this page is a NYCRA calendar of events from 2012 and 2013.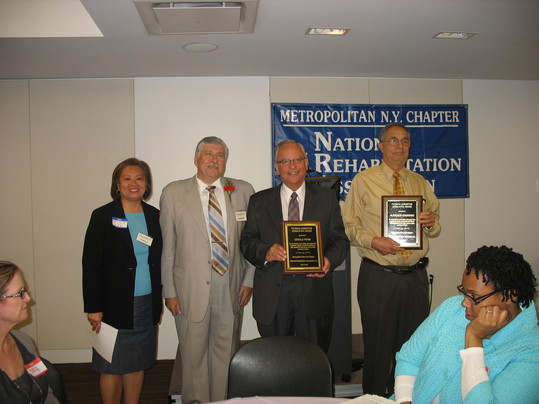 L-R Paula Lee CRC, Tony Spinelli CRC, Dr. Gerald Fromm CRC, Al Gaudioso CRC Awards NYU, June 2012
Dr. Gerald From and Patricia Enriquez received awards for their work in furthering the communication and legislative efforts impacting persons with disabilities at a recent NYU Conference where Dr. Fromm delivered a presentation on issues and obstacles we face to seek licensure. Dr. Fromm received the Patricia Livingston award given yearly to recognize a rehabilitation counselor professional for their outstanding work in supporting the profession and legislation. I would like to echo the sentiments of Mary Gangl of Western NY and others across the state: "Thanks everyone for the terrific effort on CRC licensure". For the next legislative session we should all create a contact mail, email list for the network of communications. Let's collect names & addresses from across New York- Maintain and share your list of legislators, senators, assemblymen, CRCs, agencies, educational and client entities who are willing to publically back this legislation.

At the January NYRCA Board Meeting in NYC we will be discussing the issues. If you plan to attend please contact an NYRCA board member to RSVP.
NYRCA BOARD MEETING SCHEDULE 2013
All meetings are Monday's 1-3 PM

Monday January 14, 2013

**WATCH FOR UPDATE OF 2013 BOARD MEMBERS
AND MEETING DATES!! WE WILL NEED YOUR SUPPORT
AS THE EFFORTS FOR GAINING LISCENSURE OF NY STATE REHABILITATION COUNSELORS CONTINUES!!!

Wasserman Center for Career Development
140 East 14th Street (or 133 East 13th Street)
between 3rd and 4th Avenues
2nd Floor
New York, NY 10003
4, 5, 6, L, N, Q, R subways to 14th Street Union Square

Jessica Battisti and Dr. Arnold Wolf joined together to present a well received interactive discussion on Resolving ethical issues at the June Diversity Lecture Series in Syracuse at the SUNY Health Science Center, hosted by the Committee on Diversity and headed up by Maxine Thompson. The discussion was very well received. For more info or to request a presentation at your facility contact Elle Abel or Dr. Arnold Wolf- See board directory