On this page we have compiled the latest news concerning NYCRA from 2012 and 2013 to keep you informed of current developments and ongoing issues.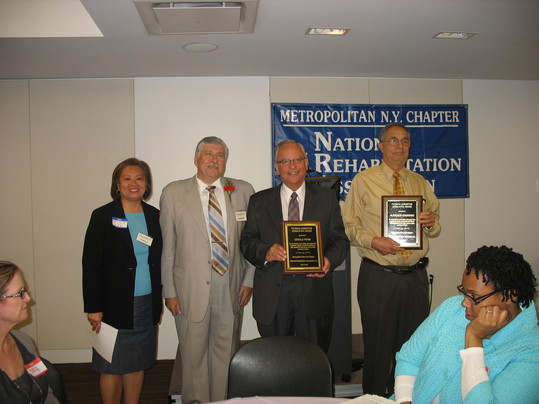 Above Photo: June 2012 NYU Presentation and Awards- See Calendar page for more pics and info!! From Left To Right: Paula Lee, Anthony Spinelli, Dr. Gerald From, Al Gaudioso. Dr. From received the 2012 Patricia Livingston Legislative Award presented to Dr. From for "...developing, promoting and supporting legislation design to benefit individuals with disabilities and those who provide services to them. Presented by Metropolitan New York Chapter, National Rehabilitation Association, INC. June 14, 2012." Al Gaudioso also received an award for his dedication and work on legislative issues in NY State.


PHOTO ABOVE- Dr. Arnold Wolf, Jessica Battisti, Elle Abel and Maxine Thompson, Director of Committee on Diversity at SUNY HSC. June 2012 Dr. Wolf and Jessica presented an interactive discussion on "Challenges in Diversity- Resolution of Ethical Issues". The group also accepted the 2012 Syracuse region Rehabilitation Counselor week proclamation from Staphanie Miner, Mayor of Syracuse and Joanie Mahoney, Onondoga County Executive honoring Rehabilitation Counselors week in May.

See calendar page for more pics and info!!
January 2013
Message to Our Supporters
Dear Colleagues, Rehabilitation Professionals and consumers:

There are currently efforts going on by your NYRCA board to create new bills before the 2013 New York State Legislature on the licensure of rehabilitation counselors. The following link to the New York State Legislature will permit you to review the status of bills when they are activated for the next legislative session:

http://public.leginfo.state.ny.us/menuf.cgi

STAY TUNED FOR UPDATES!

The effort to establish a license for rehabilitation counselors in New York State, a profession that has been around 92 years since the passage of the first Civilian Rehabilitation Act in 1920, has been going on for almost three decades. There have been multiple discussions with the NYS Office of Professions and representatives of professional counselor organizations to discuss licensure over the years. In 2012, organizations throughout the State of New York, including but not limited to the New York State Public Employees Federation, the Metro NY Chapter NRA, the West-Rock Chapter NRA, New York State Rehabilitation Counselors Association, the Association of Vocational Rehabilitation in Alcoholism and Substance Abuse, Rehabilitation Counselors of Syracuse, Western New York, and Long Island, have all banded together to let their state elected officials know that the recognition of the profession of rehabilitation counselor through the conferring of a license, represents the importance of regulating and insuring that only professionals of the highest quality and training work with individuals with significant disabilities. Please take the opportunity to review the bills pending before the NYS legislature and discuss them with Deputy Commissioner Kevin Smith. Representatives of the above-mentioned organizations are ready at a moment's notice to meet with you to support this initiative and to provide whatever information you may need to support this licensure bill. Our goal is to have a positive discussion as to the significance of what licensure of rehabilitation counselors can bring to New York State- including improved access to resources, advocacy, and retention of our valuable rehabilitation counselors in New York State.. On behalf of my colleagues across the state and the more than 17,000 professionals that hold the title of rehabilitation counselor, as determined by a recent survey of the NYS Department of Labor, we would very much appreciate your support so that New York can have the highest quality staff to provide VR services to the hundreds of thousands of consumers in our state.
BULLETIN: Rehabilitation Counselor Licensure in NY
There is ongoing work currently to establish the bill for the 2013 legislative sessions in Albany seeking once again to create licensure for Rehabilitation Counselors in New York. There is a lot of activity and interest in supporting the bill thus including rehabilitation counselors on the list of 48 other professionals credentialed through the NY State Office of the Professions. Rehabilitation counselor licensure is important. NYRCA advocates for and supports licensure of rehabilitation counselors so we may continue to educate, recruit and retain qualified rehabilitation counselors in New York State.

The purpose of the rehabilitation counselor licensure bill is to protect people with disabilities - This is Advocacy in Action!

STAY TUNED FOR 2013 RC BILL INFORMATION!! We will post this info as soon as it is available (To view bills go to the following web pages and insert bill info:)

*Tracking a bill using your computer*

Online web sites that can help keep track of the RC bill from the comfort of our computers: For the NY Senate use: http://www.nysenate.gov/ (It is suggested you register your email). For the NY Assembly http://assembly.state.ny.us/. You can also go to the New York State Legislature http://public.leginfo.state.ny.us/menuf.cgi.

STAY TUNED FOR UPDATES!! NYRCA board members are available (see board listing). A question and answer packet is available that answers many of the questions that arise in speaking to legislators and educators. There are rehabilitation counselors and educators from the NYRCA available to answer your questions.

Your support of the profession is much appreciated.
NYRCA State Licensure Board
NYRCA continues to focus its efforts on the Rehabilitation Counseling Licensure Bill in the New York State Legislature. Our licensure committee is indebted to our cherished colleague, Dr. Patricia Livingston, who recently passed on. Her remarkable work and decades of dedication continued to bring this effort into the forefront for many years in an effort to achieve licensure for the RCs in NY state. Along with commiittee members Al Gaudioso, CRC, Gerald From, PhD, CRC and numerous board members and colleagues over the years, this diligent and vital effort continues. Committee members visited and established ongoing communication with a State legislators and many are vocal supporters of the bill.

Sadly, our State Senate supporter, Thomas P. Morahan, passed away last year. We lost a praiseworthy civil servant and friend. Challenges come and go but our determination to get this passed is unwavering. Please stay tuned. We welcome information, comments and above all, participation. Remember there's strength in numbers! We encourage all interested NRCA members in the Empire State to contact any NYRCA board members and to volunteer to help with these efforts. Our contact information is listed on our website.
Rehabilitation Counseling Week in May
We are looking forward to celebrate Rehabilitation Counseling Week the first week of May, as suggested by our National offices. In past years, Al Gaudioso has coordinated efforts with other NYRCA Board Members to obtain proclamations from various government officials throughout New York. We are proud to report that we received numerous proclamations including ones from the following counties and cities: City of Buffalo, Mayor Byron Brown (see Buffalo proclamation); New York City, Mayor Michael Bloomberg (see NYC proclamation); City of Syracuse in a joint effort with the County of Onondaga, Mayor Stephanie A Miner and County Executive Joanne M. Mahoney (see Syracuse proclamation); Rockland County, C. Scott Vanderhoef County Executive; and Westchester County, Robert P. Astorino, County Executive. We are grateful to these officials.

We want to thank members and friends of the Board who take time from their busy schedules to support our Rehabilitation Counseling Week in their regions. Special thanks to the main coordinators of this effort, our board member extraordinaire and Organizational Chair, Al Gaudioso, who has done this for three decades. Consistent efforts from Board members like Al and others have put our profession on the radar screen of New York State Legislators. Plan to launch a 2013 Rehabilitation Counselors Week event in your area and take pics, send articles for our newsletter page! Send articles and pics to Elle Abel at:

eabel21@gmail.com or P.O. Box 311 Syracuse, NY 13206
Educational Activities
Many of our ranks have held educational activities over the months.including training sessions such as, "Job Placement Issues & Strategies for Individual with Disabilities Including Psychiatric, Intellectual and Physical Impairments" held at the Helen Hays Hospital in Westchester/Rockland. and "Todays Veteran: The Unique Concerns of Veterans with Disabilities Returning from Post War Experiences" presented by Jerry Donnellan, Commissioner of Rockland County, Veterans Service Agency at the Casa Mia Manor House in Blauvet, NY. Thanks to the West/Rock chapter for their dedication to educational events and seminars and Al Gaudioso who frequently hosts education events at the Helen Hayes Hospital. New educational events are coming up. Get then on our calendar of events! If you are interested in hosting an event or visiting New York or need CEUs for your re-certification, we encourage you to attend our events. You can also contact theses other regional rehabilitation organizations that support our mission: West/Rock NRA chapter, Metro New York Chapter of NRA at http://www.nymetronra.org and AVRASA at http://www.avrasa.org.

For more information visit our website at nyrca.org. To our colleagues in New York State, your emails and comments are always welcome. The website is a great place to connect with members of our profession statewide. Please take full advantage of it!

If you join us, we become a stronger profession. Please do so! As NRCA logo states, "There's a place for you in NRCA" to which we would add "...especially in New York State." Thank you and we look forward to hearing from you.