If you want to get slim with a convenient home delivered diet but still eat great quality meals, this review of Bistro MD will show you how it can be possible.

After all, what is the point of putting yourself on a strict and unyielding dieting plan if you dislike the food you're given to eat?

With thus home delivery dieting solution, you can actually look forward to eating great meals that are freshly prepared by dedicated chefs and frozen in small batches of five or seven day packages.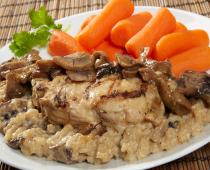 It all means you get quality food that is varied, tastes great and provides all the nutrition you'll need to get healthy and lose weight all in one easy-to-do diet.
What is Bistro MD?
The company was created to fill a gap in the home delivery dieting market that existed for people who were highly verbal in their disappointment with the lower quality of processed diet meals.

These were the kind of meals provided by the major diet companies like Jenny Craig, Nutrisystem, Medifast, eDiets or Diet to Go (for example).

There wasn't a way to get the convenience provided by these and other companies in read-to-eat low calorie meals packaged up in a menu that comprised high quality food that was freshly prepared and not processed.

Bistro MD appeared and started selling chef prepared meals that were created to order and then frozen for delivery to customers who wanted more from their diets and food they could really enjoy eating.

The deliveries were kept to single weeks of food rather than the more common 28-day packages of other companies. This meant food was as fresh as possible while still providing the convenient and cost effective option that made the business viable and profitable.

You can order your menus as full seven day, three meals-a-day plans, or chose the five day option and get weekends off to eat regular meals if you want to.
Full Support
Each of the programs also comes with full support, in addition to the prepared meals.

According to the company, the programs come with full one-on-one dietitian support, all the tools and learning material you'll need to succeed plus access to a community of similar Bistro MD dieters!

Bistro MD is designed to be best suited to people who want to lose weight initially and then for the long term and maintain their results.

Prices are naturally higher than some other diet delivery companies. Like the price of Medifast, or the Nutrisystem cost whether it is for Nutrisystem for men or for women for example, but these prices are reflected in the much higher standard of food quality you receive.

In short, you really do get what you pay for!

As an affiliate of Bistro MD, I earn from qualifying sales

Health Benefits of Bistro MD Diets
When you embark upon a Bistro MD diet, you should know that the company claims there are a number of health benefits accompanying the program.

These include:
A calorie-restricted diet places the body in starvation mode, activating its evolutionary inbuilt self-healing and rejuvenation program
Losing weight in a slow and steady manner is far more effective than losing it quickly
Eating nutritionally dense meals helps the body adapt to calorie restriction without feeling deprived of anything
There are in actuality four components effectively losing weight. These are:
Social support
Correct diet
Moderate exercise
Adequate sleep
Bistro MD supports most of its claims with published studies and the backing of organizations such as the University of Cambridge and the National Academy of Sciences.

A 2017 study looked at the way in which the brain regulates calorie burning. It revealed that the body, under the direction of the brain will burn more or less calories depending on the total calories consumed.

What this means is that when a person cuts their calorie intake considerably, their brain will slow down the body's calorie requirement to compensate. This actually causes weight loss to slow down in response.

However, according to The National Institute on Aging calorie restriction and short-term fasting also helps to increase insulin sensitivity, reducing the necessity for high levels of insulin release.

Since insulin is the hormone responsible not only for normalizing blood sugar levels, but also for increased fat storage and reduced fat burning, its reduction will aid greater levels of fat burning for fuel in restricted calorie intake situations.

In short, by reducing insulin prevalence, more fat can be burned for fuel, leading to greater fat loss (and weight loss).
Bistro MD is Good Enough for J-Lo!
Celebrities have a pretty tough tome making sure that they stay in shape because they never know when a cameraman is going to be waiting around the corner to capture them when they are usually looking their worst. So it stands to reason that they will do whatever it takes to make sure they are always looking their best.

Of course, many celebrities have plenty of spare time on their hands to work out with a personal trainer and they can usually afford to pay for the best in weight loss meals. It probably came as no surprise to learn that Bistro MD keeps Jennifer Lopez in shape while she keeps herself fit by training regularly.

A good old fashioned combination of great diet and plenty of physical activity go a long way to keeping her looking great and maintaining her amazing figure.

It just goes to show that when you do have the time and the budget, along with the need, you can keep your self looking good, fit and slim. You can do that by reading all the best diet reviews and making full use of all the fitness and weight loss strategies that are available and that money can buy.

So who wants to be a celebrity? To be honest, I'd rather be the way I am!


Last Updated: August 2, 2022

(TOP)